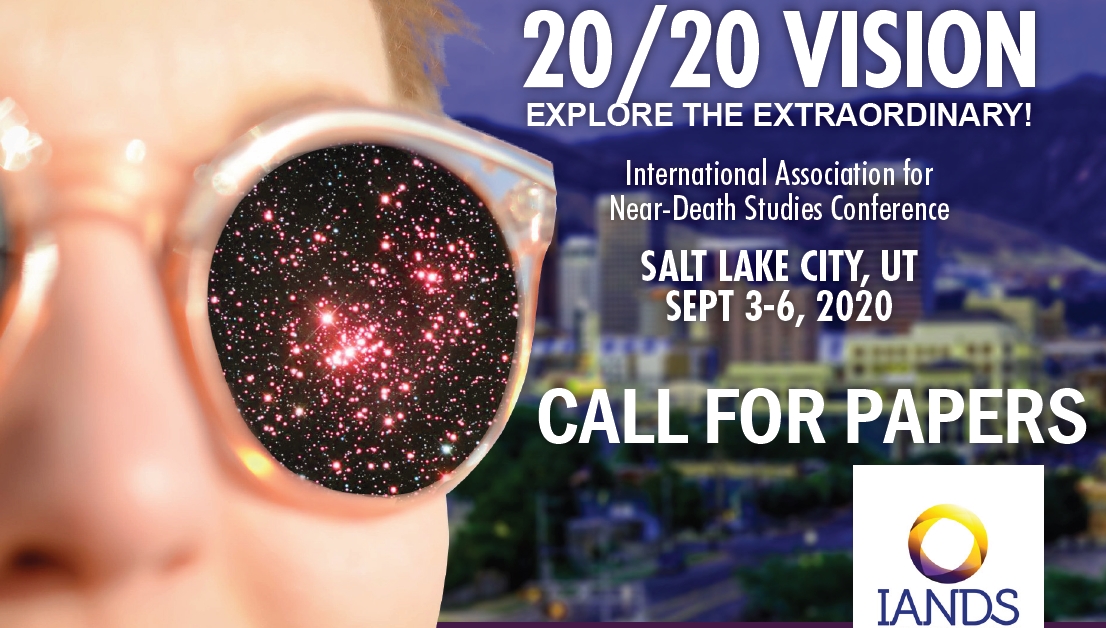 We invite you to submit a proposal for a lecture presentation, panel session, workshop, poster presentation or art display that meets one or more of the following objectives.
Conference Theme: 20/20 Vision: Inner GPS & Divine Guidance from the Light: Near-Death Experiences (NDEs) and other Spiritually Transformative Experiences (STEs) often activate profound changes in the experiencer's consciousness and life purpose. New gifts for experiencers may include enhanced intuition and insight, clear inner "knowing," increased compassion and caring for others, and the arrival of many aspects of creativity unknown prior to the experience.
Conference Objectives:
Promote disclosure, description and classification of the phenomena associated with NDEs and related experiences that affirm near-death experiences, their aftereffects and their gifts, vision and insights.
Identify practices and insights that may help those in the healing professions (doctors, nurses, hospice, chaplains) to support NDErs and STErs to affirm their experience, the aftereffects, the gifts and vision or perspective from the experience.
Compare and contrast insights about near-death-related phenomena when viewed from the experiencer, scientific and/or spiritual perspectives.
Discuss recent research on near-death-related phenomena and associated experiences, with an emphasis on the gifts, vision, insights, and aftereffects that affirm the experience.
Preference will be given to presentations that most closely address the conference theme and objectives. Most presentations will be scheduled with one or two other concurrent sessions. Presenters are responsible for Conference registration fees (less any discount that may be awarded), as well as their own transportation and hotel expenses.
Note: presentations of individual NDE stories will be scheduled on one of the NDEr Panels. If you want to be considered for an NDEr panel, specify that in the abstract. The Objectives, Outline and Degrees sections then do not need to be filled in.
IANDS Policy: IANDS' purpose is to promote responsible, multi-disciplinary exploration of near-death and similar experiences. IANDS is impartial and open to the presentation of varying points of view. While all personal beliefs are respected, IANDS does not support proselytizing or promoting personal religious beliefs.
Conference Venue: The Conference will be held at the Hilton Salt Lake City Center, 255 South West Temple, Salt Lake City, Utah 84101. Telephone 801-328-2000. The hotel rate for IANDS will be $119/night, single or double occupancy.
Instructions for submitting a Conference Proposal
Once you have submitted your proposal, you will receive an email with the complete text of the proposal. If you wish to make changes to your proposal, you must submit them to the IANDS Office: https://conferencearchives.iands.org/contacts/
If you wish to propose more than one presentation, please submit a separate form for each proposal.
Recommended browsers:

Chrome, Firefox & Safari

. We do not recommend Edge or Internet Explorer (they do not support expanding text boxes).
The large text boxes can be expanded by "grabbing and pulling" with your mouse on the lower right corner of the box. The text must be entered free-form. Note that the text boxes have a strict character count (letters and spaces). You must stay within the character count or your proposal can't be submitted.
Step 1: Click on the link below to submit your proposal.
Step 2: (a) If you already have an IANDS account, login with your Login Name and Password. If you don't remember your password, click on I forgot my login name or password. (b) If you do not have an IANDS account, click Create account and fill in the form. Then login with your Login Name and Password.
Step 3: When you have logged in, Conference Proposal Form should be showing. If the Form is not showing, click on the pull-down menu "What would you like to do?" and select the option "Submit a Conference Proposal". Fill in the Form and press the blue Submit button at the bottom.
Note: The Proposal Form contains a statement of Permission and Waiver of Liability at the end. By typing your name in the Signature field, you indicate that you approve and accept these conditions, except where you may have noted.
Proposal submission deadline is Sunday, 02/02/2020, 11:59 PM EST.
To submit a proposal, click here for Proposal Form ~ Proposal Example.